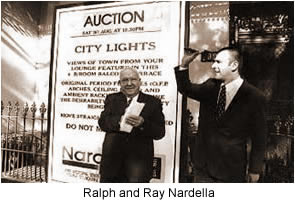 By the early fifties, the Italian population in the inner city was burgeoning. Many still had problems with the 'new language'. When real estate, financial and legal transactions were contemplated, they needed help. Ralph Nardella identified this need and decided he should something about it. So, in 1951, Nardella Real Estate was born in the Queen Victoria Market.
He had been a fruit and vegetable merchant in the Queen Victoria Market for 15 years.
In 1959, he was commissioned Justice of the Peace, and was Australia's first Italian born elected Representative as a Councilor for Brunswick in 1964.
Originally located opposite the market, on the corner of Victoria and Peel Streets, West Melbourne, the company relocated to 6 Errol Street North Melbourne in 1954 where it remained until 1992, when it moved to its current address.
Ray Nardella joined the firm in a full-time capacity in 1987, after completing a study/holiday trip to Europe.
Ray blended creative, modern marketing techniques and a culture of continuing professional development into the mix of knowledge and experience the company had already established. The result is now a service without peer for the inner-city.